ADIRONDACK CHAIRS AND FUNITURE
THIS IS MY STANDARD ADIRONDACK CHAIR DESIGN, IT COMES STANDARD WITH A DECK STAIN FINISH. THIS FIRST SET HAS CEDAR DECK STAIN. THE SECOND SET HAS A MEDIUM WALNUT DECK STAIN. THE LAST PAIR HAS A NATURAL DECK STAIN. THERE ARE OTHER COLORS. EVERY THING IS GLUED, SCREWED AND HAS BOLTS AT STRESS POINTS. THEY ARE BUILD TO LAST!
THE BASE PRICE IS $150.00 EACH JUST THE CHAIRS​
I BUILD OTTOMANS AND DRINK TABLES TO MATCH THE CHAIRS, I'VE RECENTLY ADDED SOME NEW THINGS


STANDARD DRINK TABLES

$60.00 EACH


STANDARD OR FLAT OTTOMAN. $60.OO EACH​
I CAN ALSO PUT LONGER LEGS ON THE FLAT OTTOMAN AND MAKE IT A DRINK TABLE
IT CAN ALSO BE MADE LONGER TO CREATE A COFFEE TABLE IN FRONT OF A 4FT BENCH​ $95
​
PAINTING TO MATCH CHAIRS $5 EXTRA PER ITEM​


DELIVERY IS
AVAILABLE
WITHIN 100 MILES OF INMAN SC, COST OF DELIVERY IS $1.10 PER MILE,
MILEAGE
IS FIGURED MY ADDRESS TO YOUR ADDRESS ON GOOGLE MAPS you must be willing to take delivery early morning in the charlotte area, 6;30 is preferable due to traffic. if you insist on delivery later there is a $25 extra fee for the extra time i will lose.
INMAN SC 29349


PH-864-205-9534

.
this is a 6ft Adirondack style bench on the right.
6ft fan back bench on the left.
any of the Swings on my swings page can also be built into nice benches from 4ft to 6ft.
6ft bench of either style ..............................$275.00
cypress add 30%​
THESE ARE THE SAME CHAIRS WITH LATEX EXTERIOR PAINT. THE PAINTED CHAIRS REQUIRE 2 COATS SO ARE A LITTLE MORE.
PAINTED CHAIRS ARE $10 MORE EACH. MORE THAN 1 COLOR ADD $10 for EACH SEPARATE COLOR. COLOR CHOICE IS YOUR RESPONSIBILITY!
THIS IS MY NORMAL ADIRONDACK CHAIRS AND A 4FT BENCH TO MATCH. THE BENCH CAN BE BOUGHT SEPARATELY. THIS SET HAS A COAT OF DECK STAIN
CHAIRS...................................$150.00 EACH
BENCH ...................................$195.00
DRINK TABLES....................... $60.00​​
EACH
CYPRESS

CHAIR...........$175.00EA
OTTOMAN......$70.00EA
DRINK TABLE.$70.00EA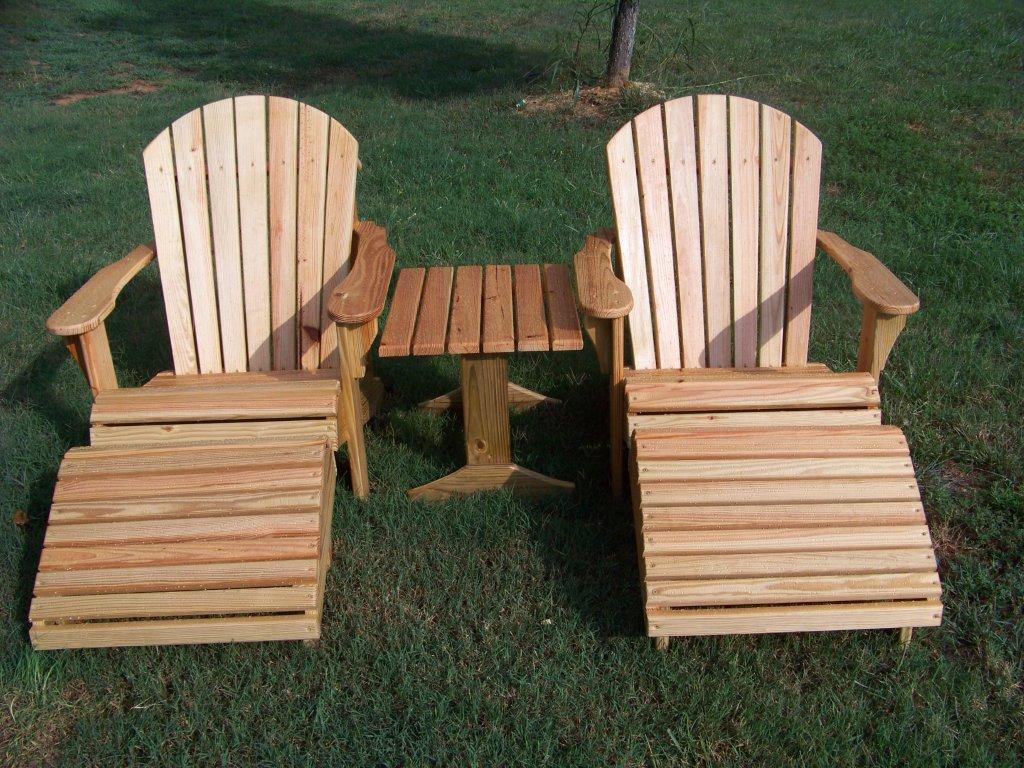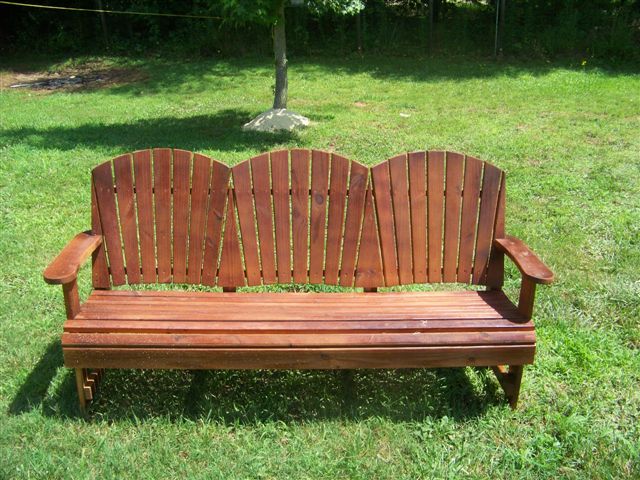 THIS IS A MORE OPEN STYLE ADIRONDACK 4FT BENCH IT FITS IN VERY NICELY WITH MY CHAIRS.

4FT $195​​


OTTOMAN NOT INCLUDED IN PRICE,
4FT FLAT OTTOMAN $100.00​
ANY OF MY SWINGS SEEN ON THE FIRST PAGE CAN ALSO BE A BENCH INSTEAD
Double click here to edit this text.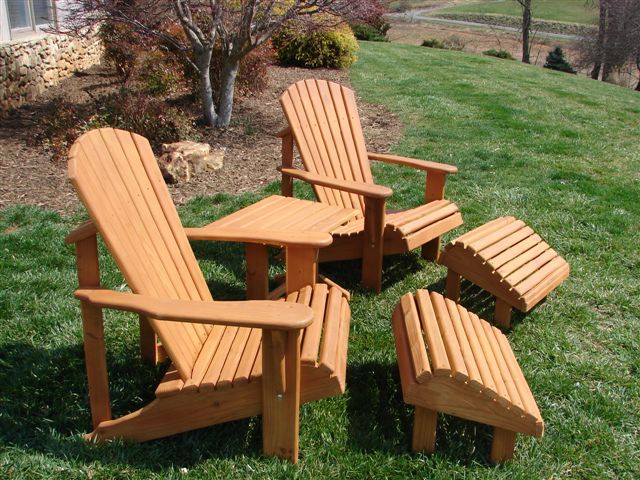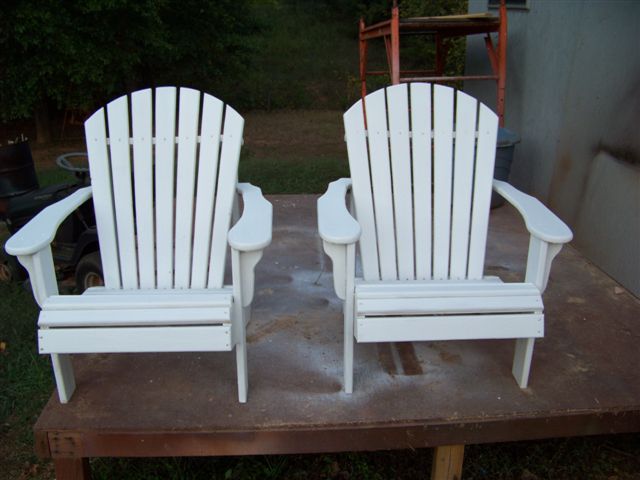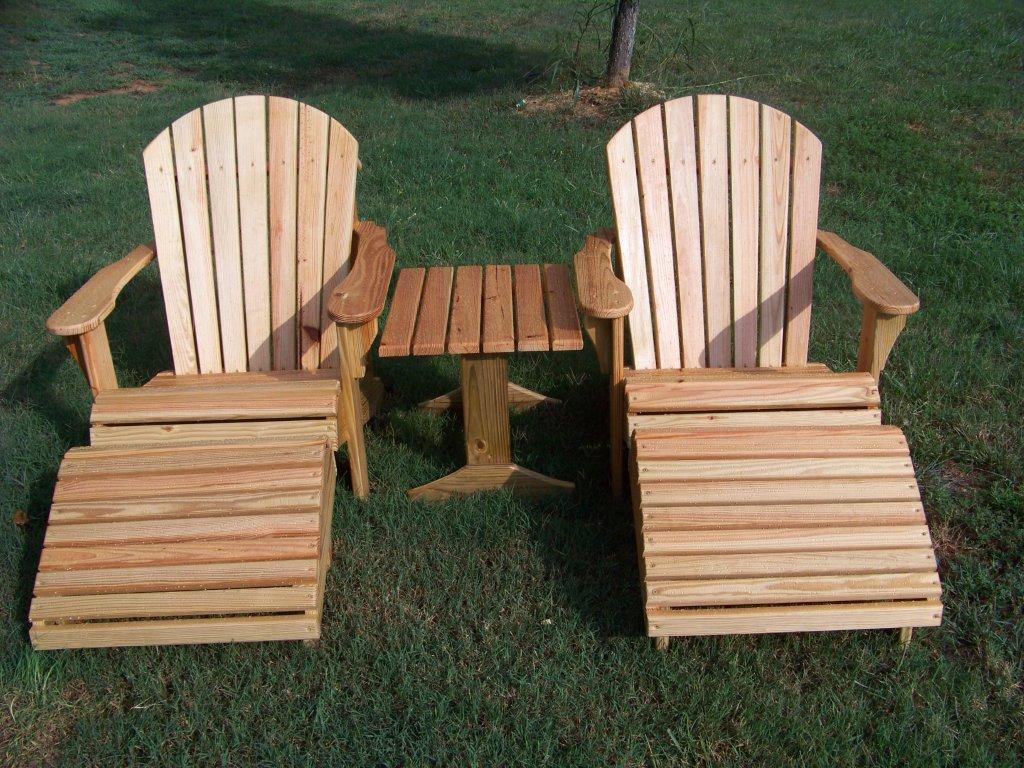 chairs on the right are high sitting stadium chairs. they are 22 inches wide like my adirondack chairs, the PRICE IS 225 EACH