CHILDRENS PLAYSETS/ SWINGSETS

.
INMAN SC
PHONE

864-205-9534
THE CLUBHOUSE

TOWER IS 4FTX5FTX12 TALLTHE BOTTOM HAS SIDING SIDEWALLS WITH A DOOR AND WINDOW ON EACH SIDE, THE MONKEYBARS ARE BUILT TO HOLD THE SWINGS, IT COMES WITH 2, HAS AN 8FT SLIDE AND CLIMBING WALL AS WELL AS A LADDER ON THE OTHER SIDE. OF COURSE THE ACTIVITIES CAN BE REARANGED. ANY WAY YOU LIKE

THIS PLAYSET IS $1760.00 INSTALLED
color is terra cotta


if more than 25 miles from me a gas charge will be added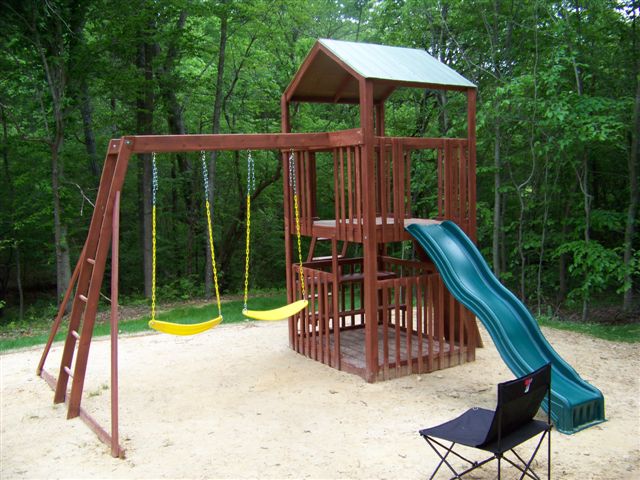 PLEASE BE AWARE THAT LUMBER PRICES HAVE DOUB;LED AND IN SOME CASES TRIPLED DUE TO COVID, MY PRICES HAVE BEEN RAISED TEMPORARILY, BUT CAN HOPEFULLY COME BACK DOWN IN A FEW MONTHS AS LUMBER PRICES RETURN TO NEAR NORMAL. THE PLAYSETS SEEN HERE ARE WHAT I HAVE BUILT OTHER CUSTOMERS. AND YOURS WILL MATCH AS CLOSELY AS POSSIBLE, BUT ALL OF MY PLAYSETS ARE CUSTOM BUILT FOR YOUR YARD AND ACCORDING TO OUR CONVERSATIONS. YOU WILL HAVE TO TAKE TIME TO TALK ABOUT WHAT YOU EXPECT! SIMPLE THINGS LIKE THE SIZE SLIDE I PUT ON A SET IS DETERMINED BY YOUR YARD, IF I PUT A 10FT SLIDE ON THE UPHILL SIDE OF A PLAYSET AND THERE IS MUCH SLOPE TO YOUR YARD , THEN THE SLIDE WILL BE TOO LEVEL AND WILL BE SLOW WITH YOUR CHILD STOPPING IN THE MIDDLE. TOO SHORT OF A SLIDE IT BECOMES TOO FAST. NO 2 PLAYSETS ARE EXACTLY ALIKE, BECAUSE NO TWO CUSTOMERS ARE, AND NO TWO YARDS ARE. COMMUNICATION IS THE KEY TO YOU BEING HAPPY.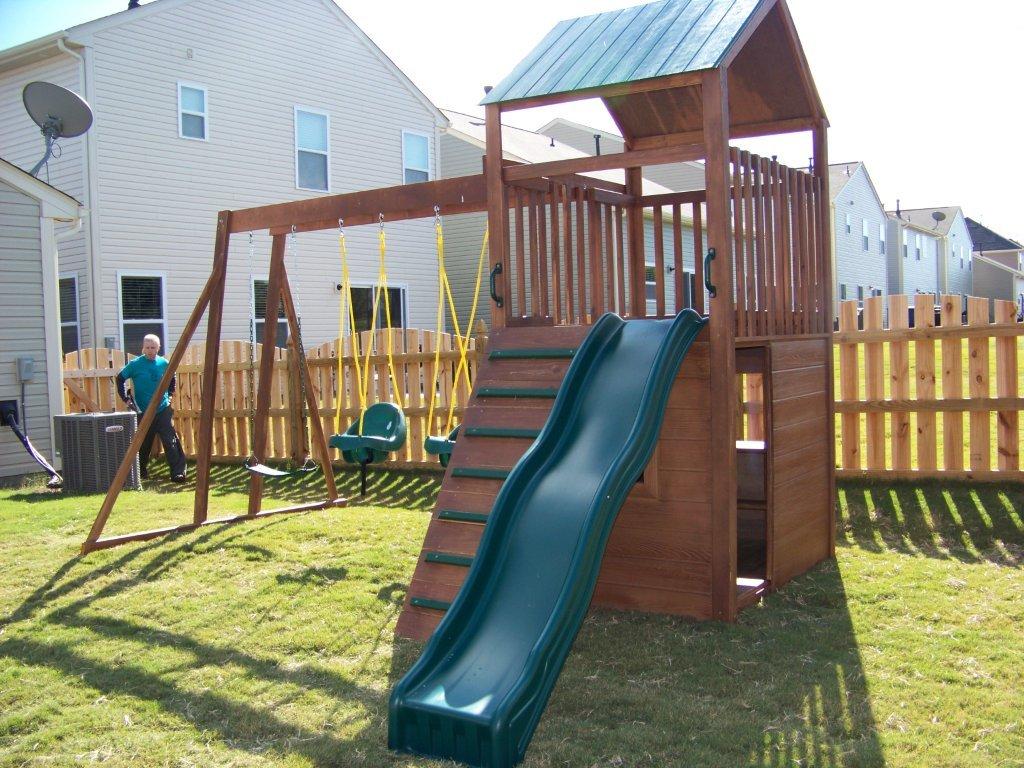 THE FORT APACHE

MY BASIC PLAYSET, THE TOWER IS 4FTX5FT , IT HAS 2 FLOORS, EACH WITH A HANDRAIL FOR SAFETY, IT COMES WITH A HARD ROOF, MONKEYBARS THAT ALSO HOLDS 2 SWINGS, AN 8FT LADDER, A CLIMBINGWALL, EVERYTHINGPRESSURE TREATED TOLAST, STAINED WITH DECK STAIN THE COLOR OF YOUR CHOISE, IT IS SCREWED AND BOLTED TOGETHER IT IS CUSTOM BUILT AND ASSEMBLED IN YOUR YARD.

$1650​​​​​